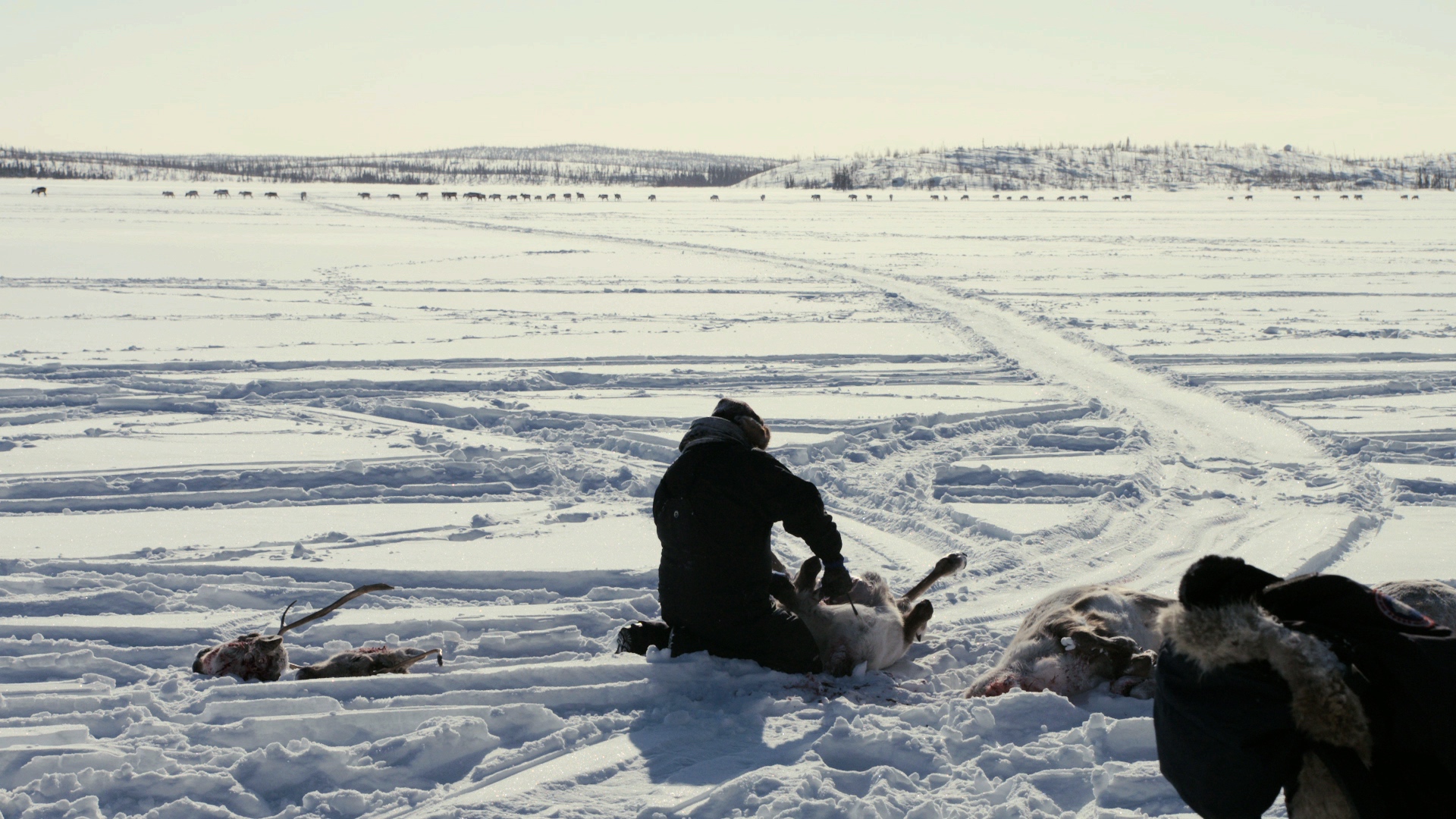 Etthén Heldeli: Caribou Eaters travels with Déné First Nations people in Canada's north, as they search for the species so vital to every aspect of their lives – the barren-ground caribou. The documentary is a celebration of their rich ancient culture, and a visual document lamenting their traditions that could vanish, if the caribou disappear.
In subarctic Western Canada, there are three caribou herds: the Ahiak, Qamanirjuaq, and Beverly. These animals represent the largest and last great mammal migration on the North American continent. Once numbering in the millions, the Ahiak and Qamanirjuaq herds have been declining in alarming numbers over the last twenty years, while the Beverly herd's migration routes have contracted so much that they no longer cross into the provinces of Saskatchewan and Manitoba. This means that the Déné people of northern Saskatchewan, who depend on caribou for meat and hides, are now forced to travel hundreds of kilometres north into the Northwest Territories and Nunavut to reach the herds.
Etthén Heldeli: Caribou Eaters follows Déné people as they hunt, harvest, butcher, feast, and celebrate the caribou, an iconic species that has sustained and defined their people for thousands of years.
360° VIDEO INSTRUCTIONS
To watch 360° videos on your computer, use the latest version of Chrome, Opera, or Firefox. For mobile viewing, use the latest version of the YouTube app.
For an immersive experience, learn more about using Cardboard.
Check out the non linear interactive version here. Your experience will be different every viewing.
Learn more about traditional Déné culture, centred around the barren-ground caribou, in these exclusive online-only webisodes.
These webisodes feature new footage, not seen in the broadcast documentary.
Subscribe to our YouTube Channel!
Contact us by filling in the web form below.
© 2018 Caribou Productions Inc.
Developed and produced in association with
Rogers Media Inc.

Production made possible through the
Screen-Based Media Production Grant Program

Produced with the participation of
Canada Media Fund
The Canadian Film or Video Production Tax Credit